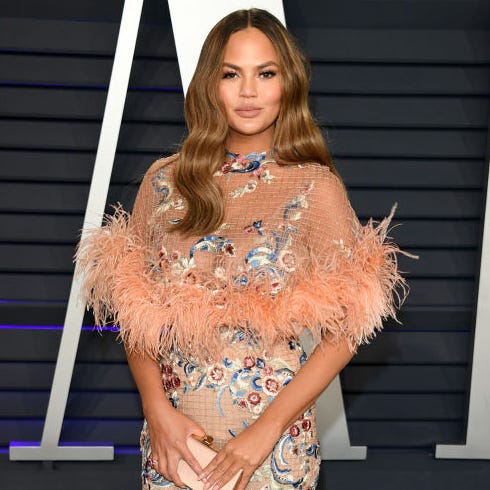 Daniele VenturelliGetty Images
Chrissy Teigen posted an intimate photo of her body to Instagram and shared that it reminds her of the pregnancy she recently lost.
Chrissy also said that she won't be able to carry children again.
---
It's been almost three months since Chrissy Teigen shared the news of her devastating pregnancy loss with her followers. While Chrissy has been keeping up with posting on social media and doing the work to move past that emotionally traumatizing event, the experience understandably still affects her, as evidenced by her recent Instagram post in which she gave followers a look at her post-baby body.
She wrote:
"This is me and my body, just yesterday. Even though I'm no longer pregnant, every glance in the mirror reminds me of what could have been. And I have no idea why i still have this bump, honestly. It's frustrating. But I'm proud of where this entire journey took my body and mind in other ways. I love being pregnant, so so much, and I'm sad I never will be again. But I am lucky to have two amazing little ones who are transforming into big little people more and more every single day. Anyhoo. Love u guys. Xx"
This content is imported from Instagram. You may be able to find the same content in another format, or you may be able to find more information, at their web site.
In addition to penning an essay on Medium that explored what her pregnancy loss was like for her and husband John Legend, Chrissy recently shared that she's been attending therapy. On her Instagram Stories yesterday, Chrissy posted a teary-eyed video following her therapy session and wrote, "This is like a post-therapy face filter," and added, "Those are boogers."
Sending love to Chrissy and John while they continue to heal from their loss. ❤️
This content is created and maintained by a third party, and imported onto this page to help users provide their email addresses. You may be able to find more information about this and similar content at piano.io