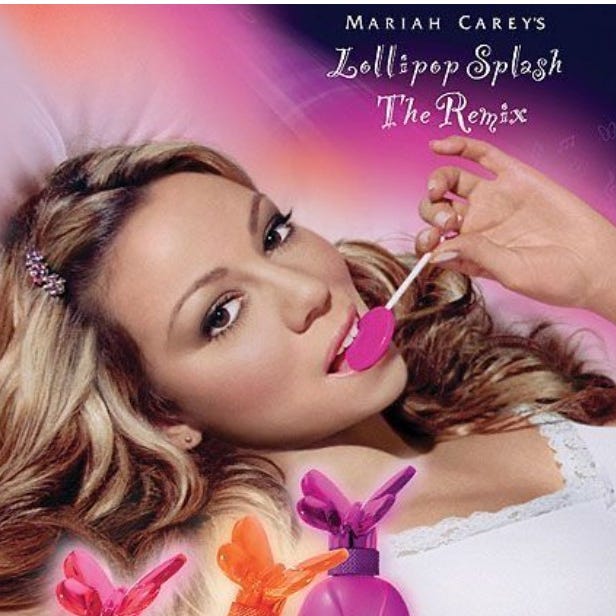 Courtesy of Brand
I know it seems like literally every celebrity has a beauty line right now between Selena Gomez's Rare Beauty, Millie Bobby Brown's Florence by Mills, and whatever the Kardashians are up to—but friends. If you thought the celebrity makeup industry was competitive right now, you have no idea how nuts it was in the early to mid aughts, when literally every A-lister (and B-lister…and C-lister) felt the need to simultaneously come out with a perfume line. And, in the case of Jessica Simpson, a fleet of edible makeup.
I challenge you to find one celebrity thriving in the early 2000s who didn't come out with a ~scent~. In the meantime, let's get started with a delightful and somewhat random assortment of 50 famous faces who got into the beauty business. Names you'll find on this list include Derek Jeter, Shakira, Paris Hilton, Rihanna (pre-Fenty Beauty, of course!), Taylor Swift, and even Justin Bieber—whose perfume campaign is best described as frightening. Enjoy the trip down memory lane you never asked for, but, frankly, need!
1 of 50
Seduction by Antonio Banderas (2009)
I, for one, feel seduced just by looking at this image.
2 of 50
Ari by Ariana Grande (2015)
I know she's trying to sell me perfume, but I just want the dogs.
3 of 50
Precious Jewel by Ashanti (2005)
Pretty sure there's still a bottle of this lurking in my childhood bedroom. Anyone else?
4 of 50
Wild Rose by Avril Lavigne (2011)
Find this inside a mall at a Hot Topic near you!
5 of 50
Black Star by Avril Lavigne (2009)
7th grade me definitely bought this thinking I was extremely edgy.
6 of 50
Heat by Beyoncé (2010)
In retrospect "catch the fever" probably wasn't the best marketing line, but hindsight is quite literally 2020.
7 of 50
Circus by Britney Spears (2009)
If you don't own a bottle of Circus, ARE YOU EVEN A BRITNEY FAN?
8 of 50
Personal Edition by Bruce Willis (2014)
Honestly, yes, if you purchased this it's probably best to keep it "absolutely private."
9 of 50
Covet by Sarah Jessica Parker (2007)
Am incredibly disappointed this is not, in fact, the actual size of the perfume bottle.
10 of 50
Fancy Nights by Jessica Simpson (2010)
It looks like the cover of an erotic novel about a witch, and I, for one, am reading it.
11 of 50
Adrenaline by Enrique Iglesias (2014)
Am I…attracted to this bottle of perfume?
12 of 50
Fame by Lady Gaga (2012)
Rare image of me clamoring on top of people at the mall to get my hands on this perfume.
13 of 50
Sejaa by Gisele Bündchen (2011)
Fun fact: Gisele had an entire skincare line. It no longer appears to exist, much like my youthful glow.
14 of 50
Glow by Jennifer Lopez (2002)
Fresh, sexy, and clean. Three things I haven't been since the start of quarantine.
15 of 50
Gold by Kim Kardashian (2011)
Disappointed to find out that this bottle does not contain real gold. Moving on!
16 of 50
With Love by Hilary Duff (2006)
Will purchase whatever Lizzie McGuire wants to sell me, next.
17 of 50
Incredible Things by Taylor Swift (2014)
Who is Picasso? Never heard of him. Taylor Swift's hand paint is the only art I recognize.
18 of 50
Gold by Jay Z (2013)
Wow, Kim Kardashian whomst?
19 of 50
That Moment by One Direction (2014)
Can only assume this is what Harry Styles smells like, and therefore I shall be buying.
20 of 50
J by Jennifer Aniston (2010)
Yep, even Jennifer Aniston has her own perfume brand. No one is safe.
21 of 50
Dessert by Jessica Simpson (2004)
This was quite literally a line of edible makeup, which is great news for everyone who ate their chapstick in elementary school.
22 of 50
Driven by Derek Jeter (2006)
The most athletic I'll ever be is wearing Derek Jeter's scent.
23 of 50
Khroma by the Kardashians (2012)
None of the people in this photo are recognizable to me.
24 of 50
Killer Queen by Katy Perry (2013)
Wow, season 6 of The Crown looks wild!
25 of 50
Queen by Queen Latifah (2009)
Another option for those interested in perfumes that reflect their royal status (aka me).
26 of 50
Unbreakable Bond by Khloé and Lamar (2011)
27 of 50
Gold by Kim Kardashian (2011)
Sorry, not done with Kim's Gold perfume campaign yet!
28 of 50
M by Mariah Carey (2007)
Obsessed with the concept for this ad being Mariah Carey flopped face-first in what appears to be a puddle.
29 of 50
Lollipop Splash The Remix by Mariah Carey (2011)
30 of 50
Minajesty by Nicki Minaj (2013)
The vibes of this ad are absolutely immaculate.
Advertisement – Continue Reading Below
This content is created and maintained by a third party, and imported onto this page to help users provide their email addresses. You may be able to find more information about this and similar content at piano.io